Ally Corbett and Richard Garvey - BC May 2022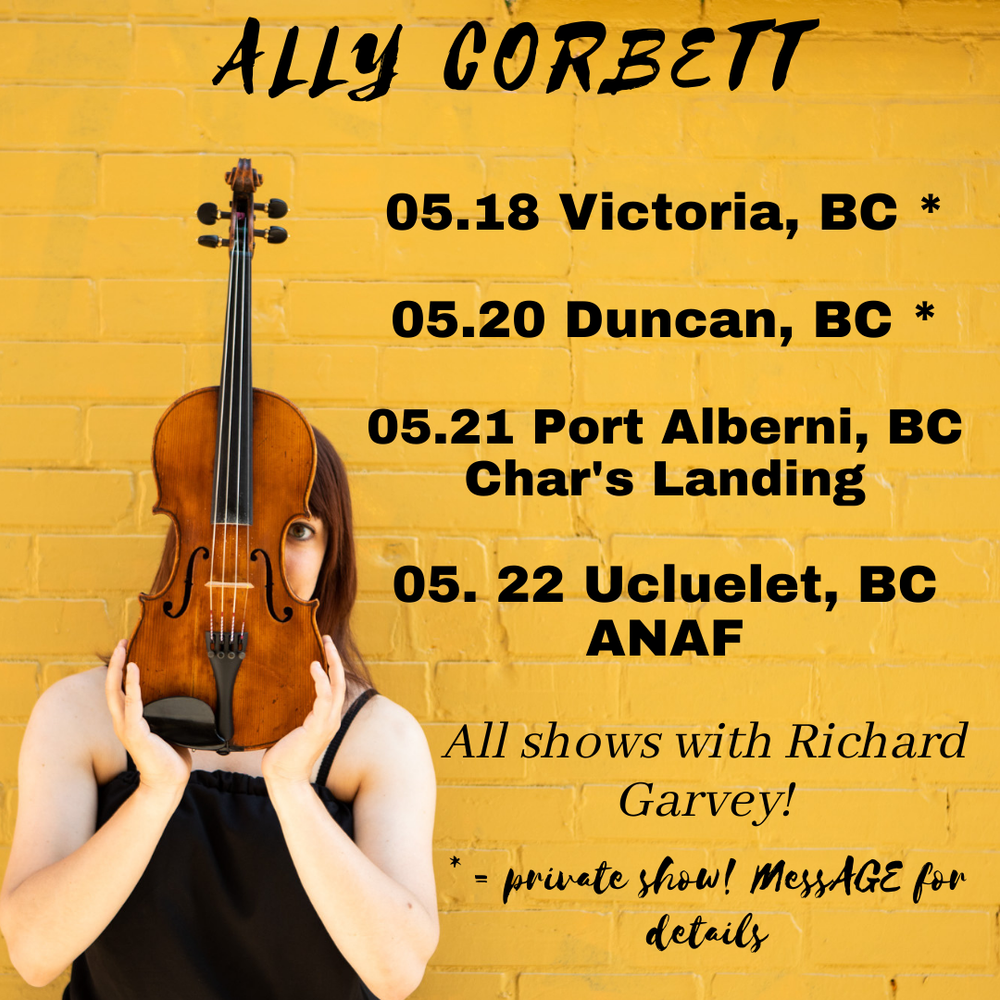 See you soon!
Canadian folk musicians Ally Corbett and Richard Garvey are joining forces! Their heart-warming combination of indie folk, fiddle, and banjo tunes is sure to leave your toes tapping and your heart smiling! 
Richard Garvey is a guitar-strumming, banjo-plucking, and sing-along-starting performer and community organiser who resides in Victoria, BC. His award-winning songs explore the highs and lows of love, injustice, and the marbled mess of the human condition. Whether he's playing to a living room or an amphitheatre, Richard brings clever songs and a sly sense of humour to inspire solidarity, hope, and change . When you're looking for the latest incarnation of world-changing, foot-stomping, and heart-filling folk music, look no further! 
Hailing from the rocky shores of St. John's, NL, fiddler Ally Corbett is a fun-loving musician who has toured with a number of Canadian groups (Al Tuck, The Burning Hell, Old Man Luedecke, Kim Barlow, Sherry Ryan)  and has added her signature fiddling style to countless recordings. She currently resides in Kitchener, ON where she regularly performs with Newfoundland band Poverty's Arse, Stratford folk group String Bone, Kitchener singer-songwriter Lynn Jackson, and as one half of the fiddle/pedal steel duo Corbett and Caplin. A seasoned performer, Ally is adding to her role as a "fiddler in the band" and is releasing an EP of her own songs. The album, "What's in It for You?" is a collection of songs that features some of the finest musicians in Canada and the US. It is currently available to hear on Bandcamp and will be released on all streaming platforms on June 3rd. 
Richard and Ally are eager to celebrate springtime with vocal harmonies and songs on fiddle, banjo, and guitar. Come join them for one of their dates in beautiful British Columbia! Catch them in Victoria on May 18, Duncan on May 20, Port Alberni at Char's Landing on May 21, and the Ucluelet ANAF on May 23.
Tickets for the May 21 concert at Char's Landing in Port Alberni are available online at: https://sidedooraccess.com/shows/kvS0LXe4sSSxJENa29ZH